Storm Damage Solutions for Your Home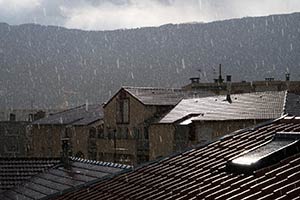 High winds, damaging hail, heavy winter snows … throughout every season, the Midwest sees its fair share of storms. If storm damage has wreaked havoc on your home's roof, reach out to the local roof restoration experts at Rooftech Systems Inc.
Roof Repair
Your roof protects your home from the elements, highlights your home's curb appeal and gives your property added value, so it's important to maintain its functionality and durability. If your roof has suffered storm damage, we want to take the stress and frustration out of the situation. We know it's not fun to see your roof ravaged by Mother Nature, but Rooftech Systems Inc's knowledgeable team has the tools and techniques to efficiently extend its useful life.
If you experience storm damage, our friendly technicians will promptly visit your property to assess the extent of the damage. Then, we'll work closely with you to find the most appropriate roofing solutions for your budget and your style. Your comfort matters to us, so throughout the entire process, we'll listen to your expectations and do our very best to meet them.
Roofing Options
We have a wide variety of roofing materials, styles and options for you to choose from. As a GAF Master Elite® Certified contractor, Rooftech Systems Inc has access to some of the industry's highest quality and longest-lasting roofing solutions. We can help you find the most innovative and sturdy materials to protect your roof from future storm damage, thoroughly install your new roofing materials and even create a preventative maintenance plan to extend the life of your roof for as long as possible.
Contact Us Today
At Rooftech Systems Inc, we have a talented team of professionals with an extensive background in storm damage repair. When the elements damage your residential roof, give us a call right away at (630) 969-1910 or contact us through our online form. We don't want you to live with storm damage, so let us put our years of experience to work for you and your home.