Other Home Improvement Services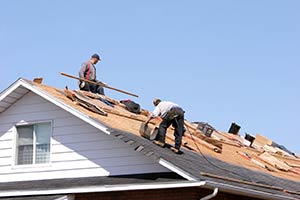 Rooftech Systems Inc is known for our professional roofing solutions, but we also provide industry-leading siding, gutter, soffit and fascia services. If your home is in need of exceptional home improvement services, turn to the trusted team at Rooftech Systems Inc.
Siding
Our home improvement services include siding repair and replacement. We work with top vendors like Mastic Home Exteriors, CraneBoard® Solid Core Siding and LP® SmartSide® Trim & Siding to give you a wide variety of options that will protect your home, improve your property's curb appeal and provide the aesthetic you want.
Gutters
Our impressive selection of high-quality seamless gutters can be installed with our gutter machinery to protect your home from unnecessary water damage. Properly installed and maintained gutters divert water away from your home, keeping your foundation clear of damage and your basement free from flooding.
Part of an effective gutter system is also the gutter guard, and we partner with Raindrop Gutter Guard to give your home the most advanced maintenance-free and self-cleaning gutter protection system on the market. From gutters to gutter guards, we offer visually appealing and functional gutter solutions that add attractiveness to your home and help keep your property protected from water damage.
Soffit & Fascia
While some homeowners overlook the importance of soffit and fascia, we know that they work together to complete the look of your home and provide vital protection to your roofing system. That's why we offer repair, replacement and installation services. We don't want to see your home exposed to water damage, rot or animal infestation, so we work hard to offer the best soffit and fascia solutions to meet your needs and budget.
Contact Us Today
If you'd like to learn more about any of our dependable home improvement services, please give Rooftech Systems Inc a call at (630) 969-1910 or contact us through our online form. We're always happy to provide free estimates and tell you more about our services.