Your Trusted Local Roofing Contractor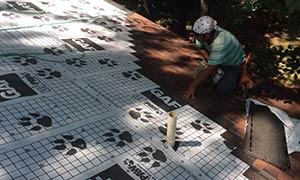 Rooftech Systems Inc is your local roofing contractor specializing in the installation of shingle and flat roofs, roof maintenance and repairs. We are proud to offer full-service roofing solutions to meet the specific needs of your home, so whether your roof needs replacement or has encountered storm damage, animal damage or something else, we have the right experience for the job.
We're a GAF Master Elite® Certified Installer
Our extensive training and industry-leading credentials give us the opportunity to offer extended warranties that are backed by GAF. Rooftech Systems Inc has earned elite recognition as a GAF Master Elite® contractor, an honor that only 3% of roofing contractors have received! The certification shows our commitment to quality, continuous learning and professionalism.
To Us, Relationships Matter
We're proud of our industry expertise, but we also realize that building successful relationships with our clients is just as important as knowing how to properly install a quality roof. Our steadfast dedication to customer satisfaction has been the key to our success. We're proud to have a long list of satisfied customers who continue to come to us for their roofing, gutter, soffit and fascia repair and replacement needs.
At Rooftech Systems Inc, we believe that quality craftsmanship and design are just the beginning in installing, restoring and maintaining a reliable roofing system. Our talented team goes beyond the basics with our innovative programs, extended warranties, contractor certifications and exceptional customer service to provide roofing solutions with long-term performance.
Contact Us for a Free Estimate
At Rooftech Systems Inc, we treat every homeowner with respect and aim to make a personal connection with each and every project we take on. So if your home is in need of new roof installation, restoration or maintenance, contact our friendly team at (630) 969-1910 or reach out through our online form. We are here and ready to put our years of trusted experience to work for you and your home.