Siding Services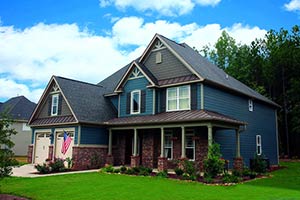 Rooftech Systems Inc installs a variety of siding types which not only protect your home and family from the elements, they add value and curb appeal to your home.
When it comes to siding manufacturers, we trust a variety of siding companies to provide us with the best siding materials in the industry.
We prefer to use award winning top quality brands like the ones below, but we are open to specific brands upon request.
Our core goal is to help you choose the right siding and make sure it's everything you want.
Siding Repair
Whether your siding is damaged by a storm, mishap, or another cause, we can help. We can quickly repair your sidings leaks, cracks, damaged soffit, damaged fascia or missing panels.
Siding Replacement
If your home needs replacement siding, let our experts handle it. We custom-bend each piece of siding to fit your home, allowing the best seal and protection possible.
Whether you're looking for horizontal, vertical, shake & shingle, or another style, well help you find it.
When it comes to siding, we carry a wide variety to fit virtually every homeowners needs.
Preferred Siding Vendors